After a short introduction about the company philosophy of Smithers-Oasis and the own person, Mrs. Evelyn Gerull (freelance florist master) gave a lecture on Tuesday, 09.06.15 in the class Flo10 about the correct handling of cutting foam and revealed the secret about keeping cut flowers fresh.
Unfortunately, it still happens very often in practice that the cutting compound is watered incorrectly. In order to prevent this in the future, Mrs. Gerull demonstrated very clearly with the help of a water basin how to water correctly from a technical point of view. In doing so, she gave a lot of valuable advice, which facilitates the handling of cutting foam and also explained the physical properties of the cutting compound. Interesting to know: One brick of plugging foam can hold two liters of water!!!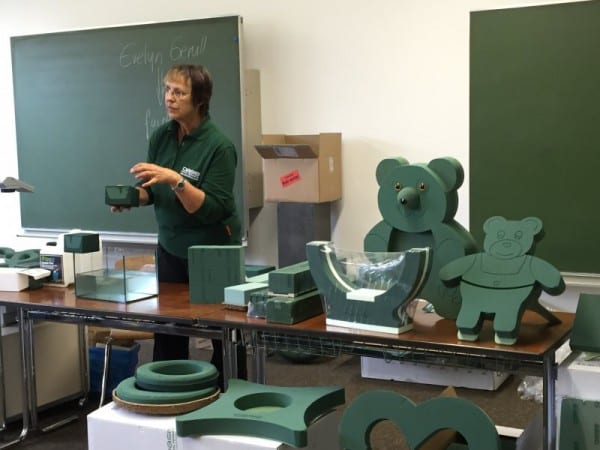 She also explained the differences in strength between the three types of foam offered (ideal, standard and premium). In this way, the florist can choose which is the most optimal cutting foam, depending on the workpiece.
Another point was the correct cutting of cut flowers. Mrs. Gerull explained the botanical background as well as the correct technique, which is necessary so that cut flowers remain turgescent for a long time.
In the second part of the presentation, the topic of keeping flowers fresh was intensified. The most important criterion is to use freshness preservatives in general! The second is the correct dosage. On the one hand, it helps to reduce flower waste and thus save costs, and on the other hand, it ensures that our customers are satisfied. In addition to important nutrients and sugars, a preservative also contains pH-reducing agents and bacteria-inhibiting substances. The service life of these products therefore depends to a large extent on how they are treated.
We would like to thank Mrs. Gerull for the extremely informative and interesting lecture! Thank you also for coming and for the gifts she brought us!
Quelle: http://www.bs3sr.de/index.php/aktivitaeten/396-wissenswertes-ueber-steckschaummasse-und-blumenfrischhaltung
Would you also like to welcome Evi Gerull at your vocational school? Contact us at [email protected]